Sprinkler Winterization ($125 for up to 8 zones, $5 for each additional zone)
Typically the final appointment of the season and normally performed between September 15 and October 31.
Push water out of each zone with a gas powered air compressor
Drain basement pipes associated with the sprinkler system
Recommend further repairs, if any, that customer can have us address during the Spring start-up
---
You installed a sprinkler system and understood that you needed to "winterize" it before snow flies. But that was spring, and you put it on the back burner. After enjoying your lush green lawn all summer, you suddenly realize that colder temperatures lurk just around the corner. You hear neighbors and friends discuss "winterization" and "blowouts" and wonder what it means, why it's necessary, and when it should be done.
What Is Winterization?
Winterization blows all the water out of the sprinkler pipes, both above and below the ground.
Why Is It Necessary?
Water expands when it freezes, but pipes do not. They crack. Damage may also occur to the manifold, backflow, or sprinkler heads. Cracks lead to leaks, and leaks lead to wasted water and swampy areas in the yard. Water bills increase, while water pressure decreases. Odd as it sounds, some parts of the grass may even suffer dryness due to diminished water pressure. Unfortunately, homeowners who water at night may not even notice the problem until it's too late. These repairs are not cheap, especially if the leak is underground and hard to locate. Winterization as a preventative measure is never a waste of money.
When Should I Winterize?
Start watching the forecast in the fall as night time temperatures begin to dip, and plan to winterize before the first freeze. The underground pipes may survive a little longer, but eventually the ground chills enough that they too will freeze. Scheduling in advance of the cold not only protects your pipes, it also helps avoid the rush and ensures you a spot on the calendar that book up quickly. It's better to shut down the system early and hand water a few times than to risk costly damages due to procrastination.
Why Use a Professional?
Sprinkler professionals will use an air compressor to blow out your system, and they will know how to use it properly. Forcing too much pressure through the system may damage the pipes. Likewise, insufficient pressure may cause air to move above the water rather than blowing the water completely out. Look for someone experienced and well equipped.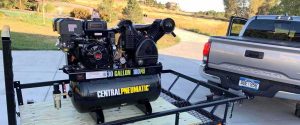 Give Sprinkler Doctor

a call this fall:
Call us at

303-800-7011

. Our office hours are Monday through Friday from 8 am to 5 pm.
Email us at email.
You can also Contact Us right here on the website. Just click on the link  scroll down and fill out the form.
You will be glad you did!